Being a part of the Contact Club consists of members who attend Chamber events and ribbon cuttings, assist new members in participation, as well as promote and serve as the faces of our organization.  Contactors have the opportunity to meet one-on-one with other members, while building business relationships and helping our community.  The club meeting regularly on the first Wednesday of each month.
Who are the Tyler Area Chamber Contactors?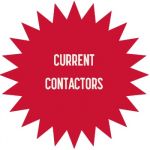 The Tyler Area Chamber Contactors are a special group of volunteers that help promote our area business community and Chamber sponsored events.  Contactors are usually the most outgoing, pro-active employees in their company. They project a positive image for their company as well the Chamber. Contactors perform a wide variety of duties in the Chamber, but their main function is to help promote the Chamber at large, welcome new Partners and make Chamber events successful and enjoyable for our Partners.
Why become a Contactor?
The Contactors Club is highly respected in the community and allows for the professional growth of each participant. Contactors are given the opportunity to network with regional business and government leaders. By being involved, your sphere of influence & professional network will grow!  Also, many of our Contactors move on to participate in other Chamber and civic leadership roles as a result of their involvement in this critical Partnership development role.
What are the requirements?
Contactors are asked to promote the Chamber in the community, help the Chamber staff host special events, attend ribbon cuttings, ground breakings, regularly scheduled mixers, luncheons, dinners, volunteer for special events, including golf tournaments, expos, and banquets.  Contactors receive recognition at our Annual Meeting for outstanding performance and receive production towards a trip!
Interested in participating?
The current Contactors vote on applicants during the August monthly meeting.  Please email the Chamber Membership Services Administrator to request an application to be considered for the Club.